Create new living space, extend the kitchen and create new bedrooms – add real value to your home and maximise on space.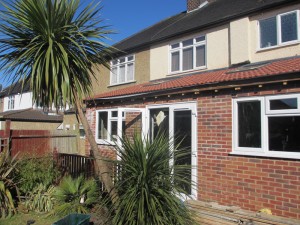 Get the home you've always wanted. With our experience and industry expertise, we'll work closely with you to design, plan and build a highly functional, aesthetically pleasing and high-quality extension that meets your individual needs.
Whether we're working to your own plans, or you require the services of our architect, we offer a complete and professional service that includes all aspect of the build.
Our work includes all structural/steelwork, electrical work, plastering, groundworks, roofing and scaffolding – and we can also fit and install Velux windows, depending on the space and lighting requirements.
Here at Tolworth Construciton we operate with a sound understanding of the environmental and practical aspects of single and double storey extensions, and work from concept to completion with a personal and highly efficient service that guarantees the very highest of build standards.
Get in touch
Call us today – speak to one of our team to discuss your single or double storey extension needs in further detail and arrange for your free, no-obligation quotation.